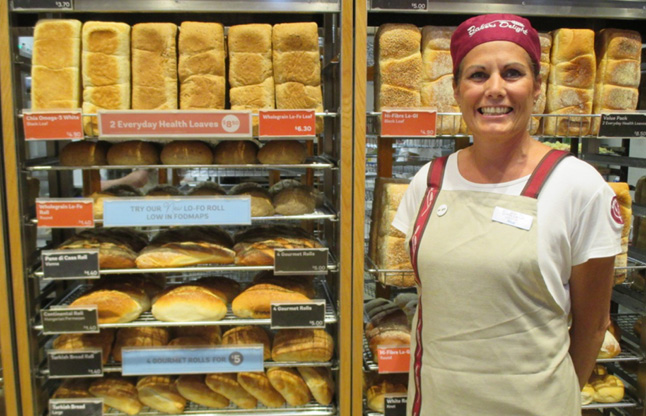 Sue
Tell us a bit about your shop or service: We are a retail bread shop delighting customers with our services and products.

What's in season or really popular right now with shoppers? We well lots of rolls and traditional break and all our back to school products are very popular.

…and what's your favourite thing instore at the moment? I have two – the Hot Cross Buns and the Turkish Break not to mention our Lo Fo bread.

How long have you been working here? Coming up to 14 years.

Are you a big or small crew – how many of you working there? 18.

What's the best part of your job? Serving customers and tasting of our new products.

What are your interests in life? Any hobbies, interests or mad obsessions? I love to go for a run and I do fitness group training.

So, do you think your shop or services helps make customers' live easier? If so, tell us how: Our service to customers always puts a smile on their face.

Do you have local customers you know by name, or like to have a chat with? Yes, after 14 years I know many customers and are always up for a chat with them.

What is the funniest or must unusual request you've ever had from a customerWe always have a few customers that tell us we have plenty of dough.

What do you think makes Lansell Square a great community and/or good place to shop? Friendly staff.
Name two things you like most about working at the centre? It's a community within itself and the customers.